I wanted to make a hearty soup that we could enjoy after a morning outside working in the yard.  I made the soup on Saturday and we re-heated it on Sunday after raking piles and piles of leaves.  To accompany the soup, we made grilled cheese sandwiches with sourdough bread and a very sharp white cheddar cheese.   The soup was thick and hearty but a bit too sweet for our taste.  Next time I will make it with canned whole peeled tomatoes and see if that suits us more.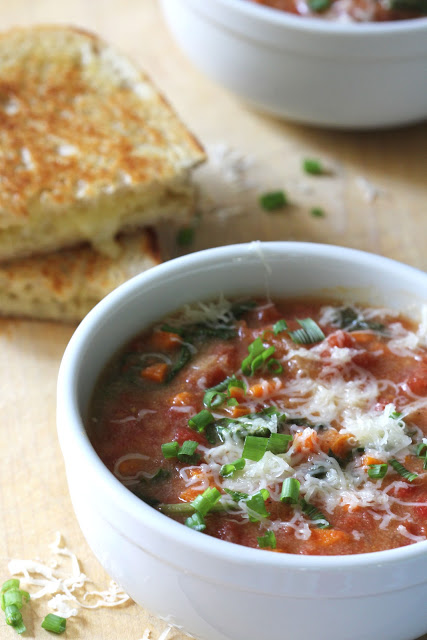 All Year Long Tomato Soup with Carrots, Spinach and Asiago Cheese - adapted from At Blanchard's Table: A Trip to the Beach Cookbook
Author:
adapted from At Blanchard's Table: A Trip to the Beach Cookbook
Ingredients
4 cups spinach, loosely packed and stems removed
1 tablespoon olive oil
2 carrots, medium, finely chopped
3 shallots, minced
1 medium garlic clove, minced
2 cups Italian plum tomatoes, canned, drained and chopped
½ cup dry white wine
31/2 cups chicken broth
¾ teaspoon salt
½ teaspoon freshly ground pepper
½ cup semolina flour
¼ cup freshly shredded Asiago cheese
2 tablespoons fresh chopped chives
Instructions
In a large saucepan, heat the oil over medium heat, add the carrots, shallots, and garlic.
Cook for about 3 minutes.
Add the tomatoes, cook for several more minutes. Add the wine, chicken broth, salt, pepper and semolina flour, stir constantly.
Bring to a boil and remove from heat.
Add the spinach, cover for about 3 minutes. Spinach will wilt in the heat.
Mix evenly.
Stir in cheese before serving and sprinkle with the chives.