I spent the last two weekends baking up batches of granola, testing out ingredients, to have over Greek yogurt for breakfast or take with me as a snack.  Turns out I like the crunch of whole almonds (not chopped) and the chewy texture of coconut and dried crandberries the best.  The Maple Syrup is not too sweet and gives plenty of flavor to the granola.  There are so many dried fruits and nuts, even chocolate, that would be delicious to add-in.  There are no rules and it is fun to change it up depending on what you are in the mood for.  While I was in the midst of playing with my own granola, there was an article in the New York Times How do you Granola? for readers to tweet their favorite granola tips and ingredients with the hashtag #GranolaTip.  So if you need more ideas, take a look at the article and the conversation on Twitter.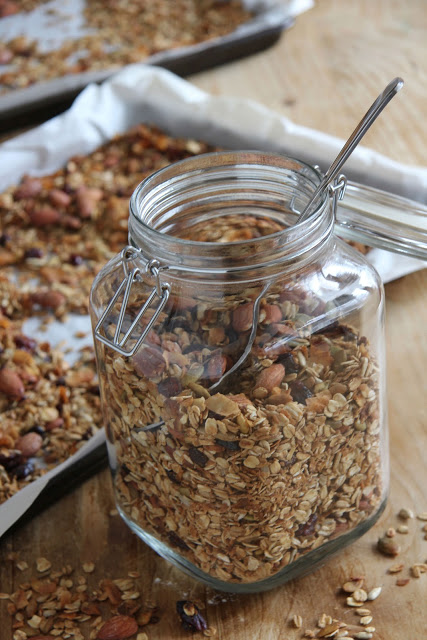 Homemade Granola, Gluten Free
Ingredients
6 Cups Bob's Red Mill Gluten Free Old Fashioned Oats
2½ Cups Almonds
1½ Cups Raw Sunflower Seeds
1½ Cups Raw Pumpkin Seeds
2 Cups Unsweetened Coconut Flakes ( I used Bob's Red Mill)
1½ Cups Dried Cranberries
¼ Cup Flax Seeds (I used Hodgson Mill Milled)
¾ Cup Maple Syrup
2 Tablespoons Canola Oil
*Have fun with the ingredients. Switch up the nuts and dried fruits . Add chocolate. No need to be Gluten Free if you do not want or need to. Enjoy!
Instructions
Preheat oven to 350 degrees, arrange oven shelves equally in the middle of the oven. Line rimmed baking sheets with parchment paper (a deeper pan is best so the granola does not spill over when you stir it.)
Mix all ingredients until combined, pour single layer of granola mix onto rimmed baking sheets.
Place baking sheets into oven and bake for up to 1 hour. Remove from oven ever 10 minutes to toss ingredients and rotate pans in oven. Bake for 40 minutes to 60 minutes until granola is a nice toasted brown color.
Cool and store in air tight containers.