When I pulled out my Fall/ Thanksgiving storage bins, I realized I had many more faux gourds than I remembered. Shhhh.. don't tell but I do have a little problem of over buying craft and decorative items when I see them! They do not really go with my decor and, while fun for a harvest table, I wanted to get out the spray paint and glitter to give them an update for my Thanksgiving table.  I took a trip to my local Michael's and loaded up on some supplies.
I taped off the stems with painters tape and spray painted several different shaped gourds in one of three colors:
Top row, middle column is Krylon Brushed Metallic nickel.
Middle row, middle column is Krylon Brushed Metallic caramel latte
Bottom row, middle column is Krylon ivory gloss
I used a cardboard box outside and held the gourd, while I sprayed it on all sides, inside the box.  It helped keep the mess down.   I forgot to wear gloves and had to use turpentine to get off the layers of paint off my hands.  It took several coats to cover the bright fall colors. (tip: wear disposable gloves)
For the glitter gourds, I placed down a large piece of craft paper on my table and taped the stems on the gourds with   
painters tape
.  I poured
Aleene's Tacky Glue
into a small disposable cup (I used a cup like
this one
 that you can get at any fast food restaurant for ketchup) and using a
sponge brush
I painted the glue on the gourds.  (For the gold and silver glitter ones I painted right onto the colored gourds, but for the white glitter I painted the glue over a gourd painted ivory.) Immediately after applying the glue I sprinkled the glitter onto the gourd over a disposable bowl.  I shook off any excess glitter into the bowl and scooped it out of the container with a spoon, re-applying it to the gourd.  Any spots that did not have glue, I dabbed the sponge brush with glue on the spot and re-glittered.  when I was finished, I poured the excess glitter back into its container.  It did not get clumpy when I reapplied the glue and glitter, but I did miss a few spots (can you see them?).  If I have time, I will go back to touch up later…
I sprayed the glitter gourds with hairspray to seal them. It did make the glitter fly around when I did it, so be sure to do this outside or where you do not want glitter everywhere!  I am not sure that it is the best sealant, but I think it worked and it did not dimish the sparkle.  (If I learn more about this I will come back and leave a note)
Note 1: If the glue is too thick, add a drop or two of water
Note 2: I did not change out the glue brush or bowl when doing the three colors, but I did do the white first so that it stayed cleanest.  I poured the excess glitter back into its jar after I was finished and wiped out the bowl before the next color.  The glitter is tiny and does stick to the bowl so that is why I did the white first.  A little mixing of silver and gold was not visible on the gourds.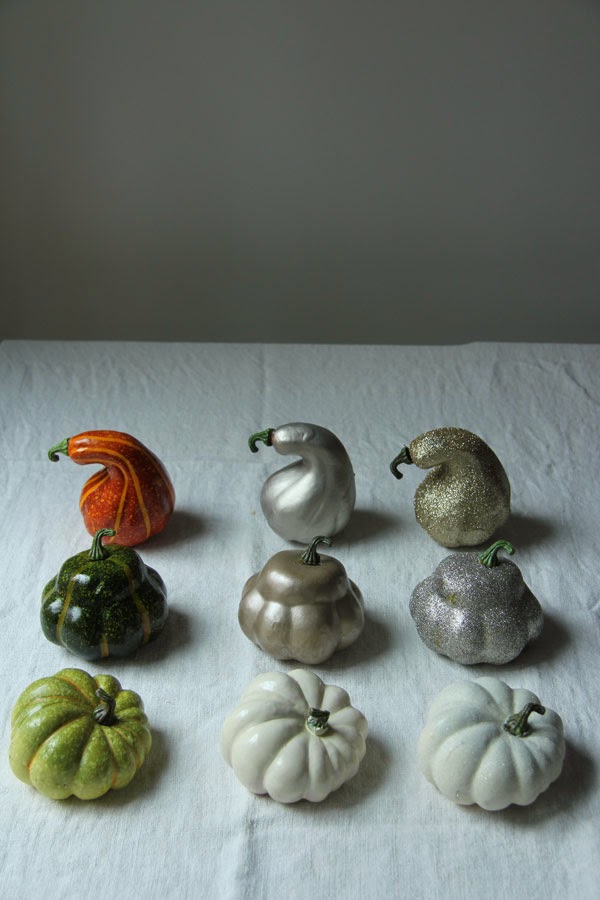 I have to say that it was a really easy and fun project.   Check out how they look on my table in this post!
PLEASE SHARE THIS POST