Did you see the napkin rings on my post Setting the Table: Christmas?  I made them with bells, wire and sliver wired ribbon.  It is an easy and fast project that you could do with your kids.  The bells come in all different colors and, depending on your decor, you could do all gold, red, green or multi-colored with matching colored ribbons.  I chose to be traditional and used silver bells.  They would also be a really nice hostess present.
DIY Jingle Bell Napkin Rings Supply List:
Directions:
Cut the florist wire in a 6″ length and created a loop at one end so that the bells will not fall off as you string them onto the wire.
Add the 28 bells to the wire
Push the bells close together
Take the end of the wire and put it through the loop on the other end, be sure the bells are strung tight together and tightly twist the ends of the wire together.  Cut off any excess wire and tuck inside the bells. Tie the wired ribbon in a bow around the napkin ring.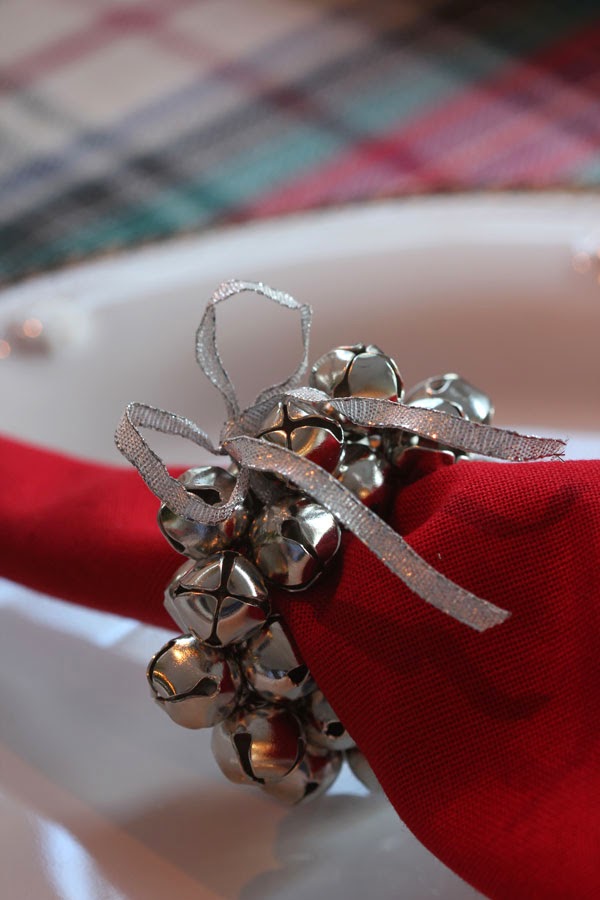 The bows gets a little smushed when you store them, but the wire ribbon is easy to maneuver to  make them come back to the shape you want.  Happy Projecting!