We have enjoyed many New Years Eve's going out to a restaurant but, some of our most memorable celebrations have been at our, or our friends', home eating fondue – we start with cheese and then have chocolate for dessert. There is something fun about dipping our long forks into the cheese with big chunks of bread and apple slices. I take huge rolls of craft paper, lay them over the table, and scatter cups of crayons for anyone who wants to leave a resolution or make a doodle.  The rest of the table is filled with the fondue pots and dishes of items to dip into the cheese and then chocolate.   I am sharing our favorite cheese fondue recipe that is a hit with all ages.  We separate out a portion, both the cheese and chocolate, for our son with Celiac Disease so that he can have his own Gluten Free pots.  He has his own sides and can enjoy it as much as everyone else without worrying about cross contamination.  It is such an easy meal and so much fun to eat… what do you serve for New Years Eve??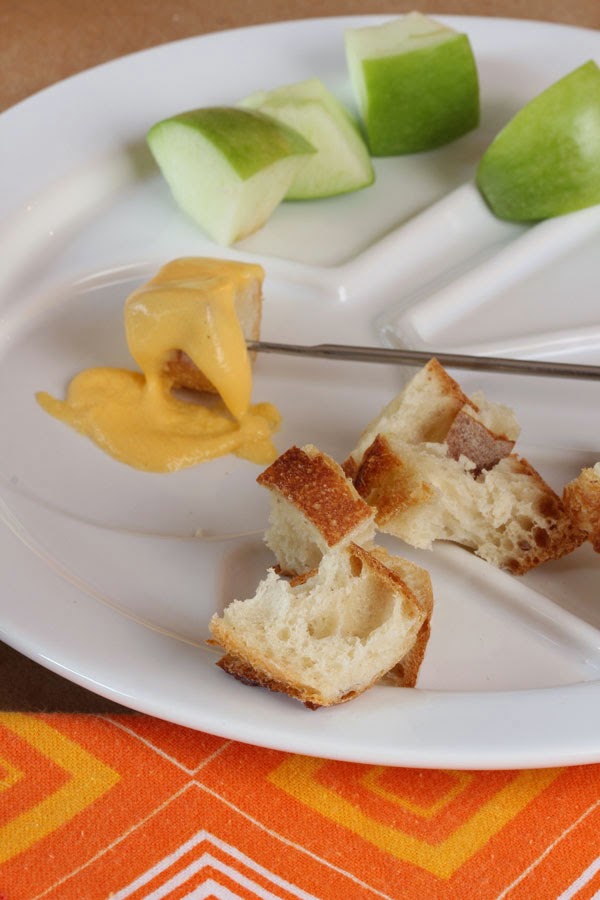 makes about 4 cups, serves 6

PRINT recipe


1 tbsp Worcestershire sauce

2 tsp dry mustard (I use Coleman's)

1 1/2 lbs. shredded milk or sharp cheddar cheese (about 6 c.)

Crusty French Bread, Broccoli florets, boiled small potatoes, cubed ham, apples, etc.
In fondue pot or saucepan over low heat, heat half and half, Worcestershire sauce, mustard, and garlic, stirring, until hot but not boiling. Discard garlic.

Gradually stir in the shredded cheese, until smooth

Either put fondue pot over low sterno flame if prepared in saucepan, pour cheese mixture from saucepan into fondue pot and set over low sterno flame.

Serve with pieces of french bread, potatoes, ham, apples, broccoli, etc..
photographs by Ridgely