Are you going to a Holiday party and in charge of bringing an appetizer?  I am and was  searching for an easy, no fuss but delicious dish to bring.  So I asked Katie to share one of her go to recipes with us and she made this delicious Creamy Smoked Trout with Apple and Horseradish. I love how the apple blends with the smoked trout and I think that makes it a lighter, more refreshing taste.  We paired it with sea salt crackers, but the recipe calls for toasted brown bread.  Give it a try and report back…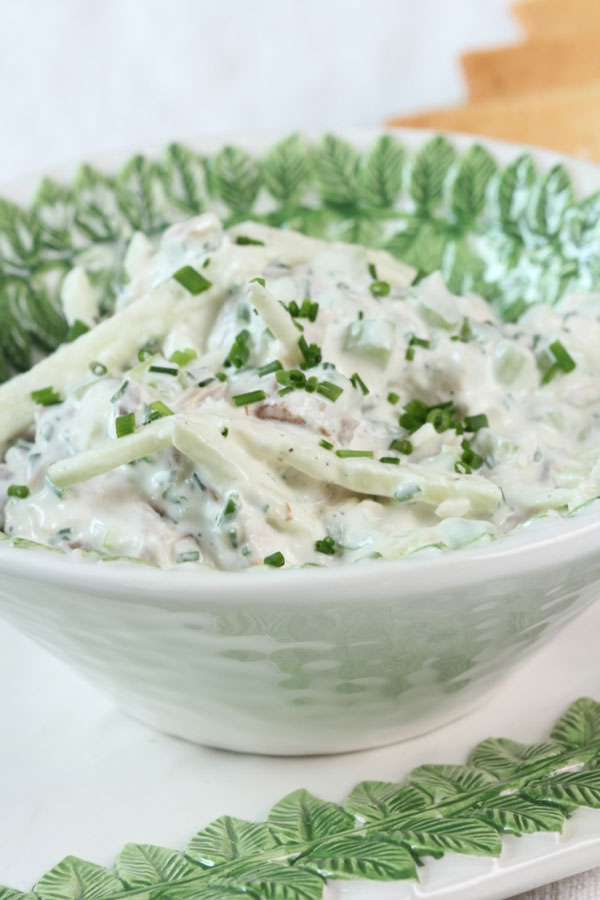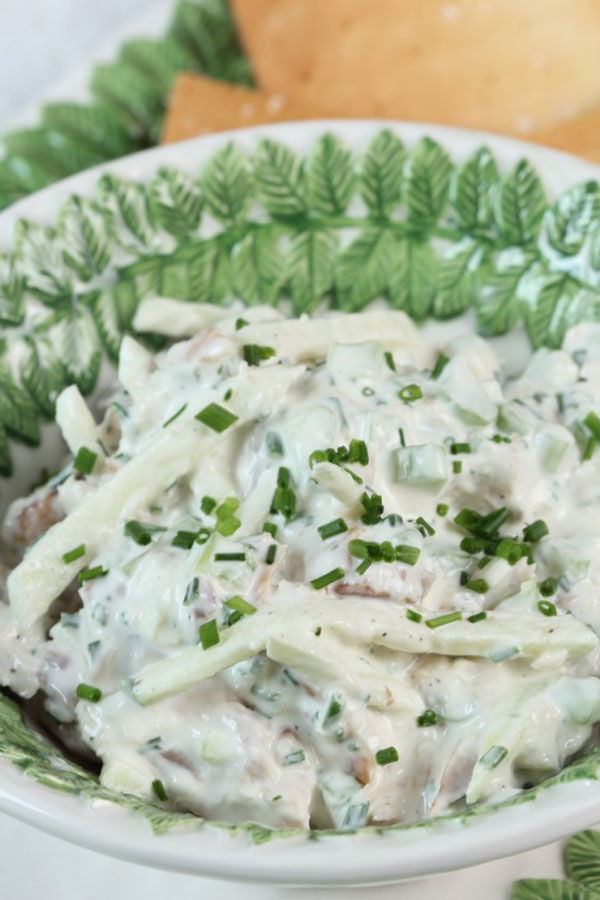 Creamy Smoked Trout with Apple and Horseradish
Author:
BON APPÉTIT December 2003
Ingredients
11 ounces smoked trout (about 3 fillets), coarsely flaked
1 medium Granny Smith apple, peeled, cored, cut into matchstick-size strips
1 cup finely chopped celery (about 2 stalks)
¼ cup finely chopped fresh chives
½ cup sour cream
½ cup mayonnaise
1½ tablespoons fresh lemon juice
1 tablespoon (or more) finely grated peeled fresh horseradish or prepared horseradish sauce
1 loaf thinly sliced brown bread (such as Westphalian-style pumpernickel), lightly toasted, cut into triangles
Instructions
Mix trout, apple, celery, and chives in large bowl to blend. Whisk sour cream, mayonnaise, lemon juice, and 1 tablespoon horseradish in small bowl to blend. Fold horseradish mixture gently into trout mixture (do not break up trout). Season to taste with salt, pepper, and more horseradish if desired. (Can be made 1 day ahead. Cover and refrigerate.)
Transfer trout mixture to serving bowl and place on platter. Surround with toasts and serve.
Notes
To make this recipe even easier, prepare the toast points two hours ahead and store them in an airtight container at room temperature.

Can be made a day ahead and stored in the refrigerator until serving