Following up to my post from yesterday, I wanted to share the salad that Steve made alongside the Turkey Mini Meatloaves with Chili Sesame Glaze.  It was an Asian inspired Cole Slaw that was the perfect complement to the spicy meatloaf.  The cool, crunchy cabbage with sesame seeds, sliced almonds and ramen noodles dressed in a vinaigrette with rice vinegar was just what was needed to clear the palate and get ready for the next bite of the meatloaf.  It is an easy recipe to make for anytime you want something a little different or do not want a traditional mayonnaise cole slaw.  Check back soon to see what else Steve will be cooking for us!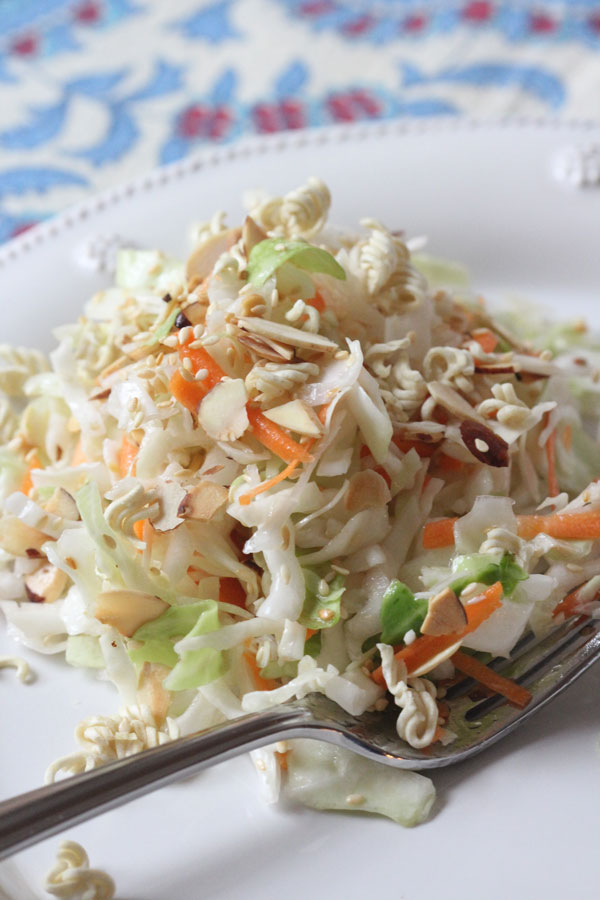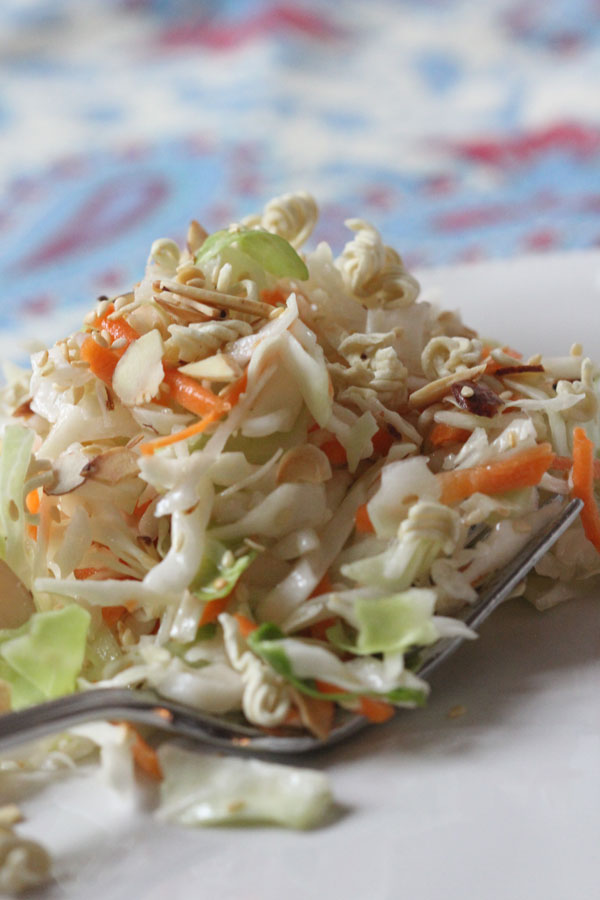 Asian Cole Slaw
Ingredients
1# bag of Cole Slaw Mix
⅓ - ½ cups of Sliced Almonds
1-2 packages of the Ramen Soup Mix (I prefer the chicken flavor, if using the package variety discard the flavoring package, if using the soup bowl variety, discard the freeze dried carrots and peas)
2-3 Tablespoons of Sesame Seeds (if you can find the ones that are already toasted I use those)
2 Tablespoons of Sugar (I use Splenda for a lower calorie version)
3 Tablespoons of Vinegar - I prefer rice vinegar but you could use apple cider or white as well
¼ cup Canola Oil
Salt and pepper
Instructions
Toast the almonds in a dry skillet over medium heat until lightly brown
(careful not to burn them). If you are using un-toasted sesame seeds put them in with the almonds to toast them as well.
Whisk together the vinegar, oil, sugar, salt and pepper.
Just prior to serving, place the cabbage mix in a large bowl, mix in the dressing mix, add the almonds and sesame seeds and then break up the ramen noodles and spread them over the top. Give the mixture one last stir to incorporate all of the ingredients.
to buy:  Juliska Bamboo Dinner Plates  /  Juliska Bamboo Flatware  /  Juliska Florence Medium Tumbler
PLEASE SHARE THIS POST