I posted this last year and reposting it now in hopes we get our kids off to college. I would love to start organizing and shopping for Back-to-School items. Nothing gets me more excited than new supplies!   Seriously! It brings back so many memories of getting ready for my new school year…new colored pens to match my new colored notebooks.. and a fresh calendar!  Remember those days?
UGH! I really want our kids to enjoy their school year together, to learn and grow independent on their school campuses.
This year, we need to send them off with masks, gloves, and lots of cleaning supplies.  Do you think we will see another wave of hoarding supplies as we start to organize dorm supplies?
As always with this great blogging community, I would love to hear from YOU!  What are the things your boarding and college-age kids can't live without at school? I will add it to the list so we can all benefit from our shared experience.
We will be packing up a Freshman and a Junior  (into his own apartment! I can't wait to tackle his packing list in another post) for College in August – fingers crossed.  Both of our sons have been away at school for some time and we have gotten pretty good at getting them organized with everything they need to be happy in their dorm rooms.
I have put together a list of College Dorm Essentials to make your shopping and packing easier. You can find everything here plus many more suggestions in my College Dorm Essentials Shop.
Here are some things that are really useful: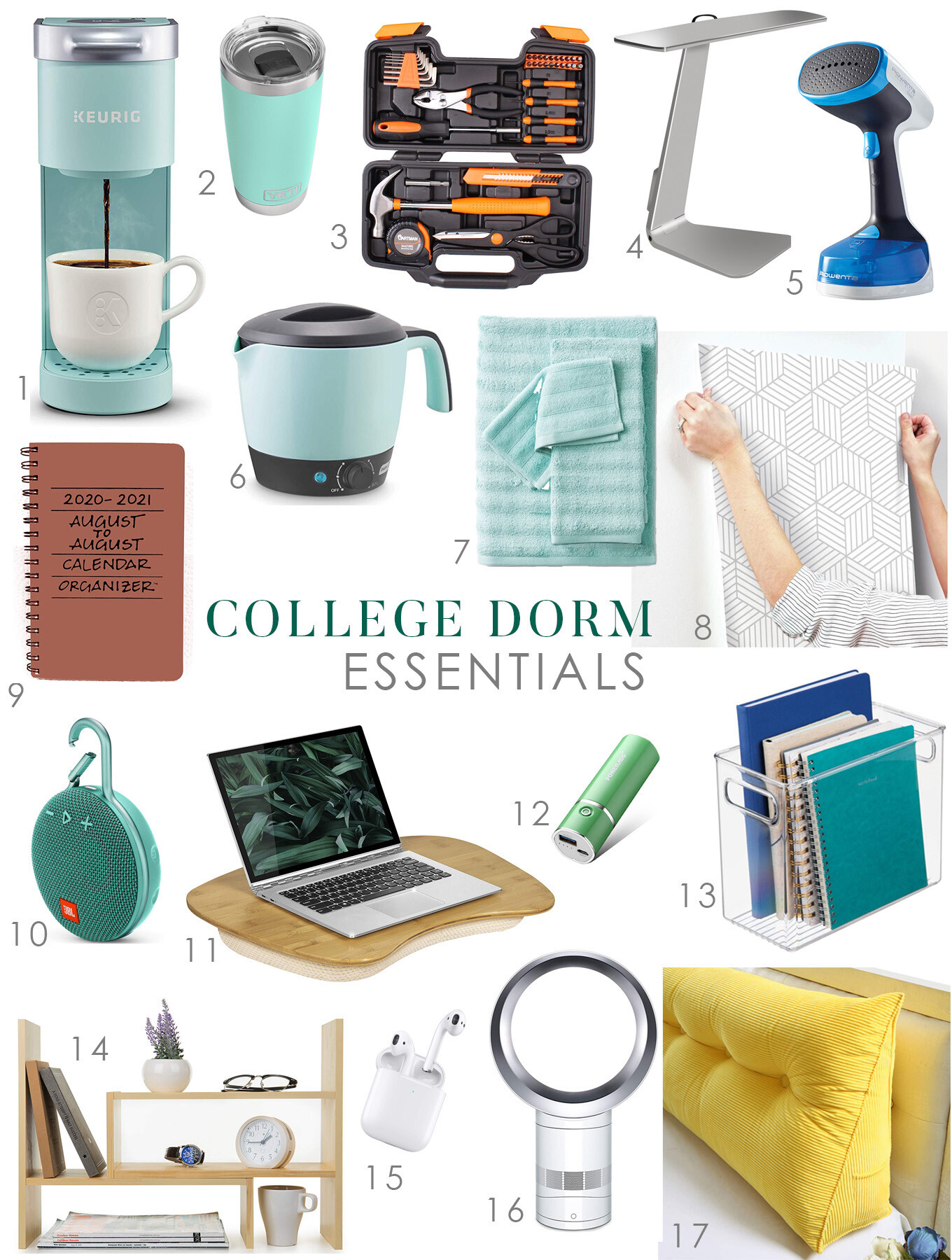 Shop: 1. Keuirg K-Mini Single Serve Coffee Maker (reusable coffee filter pod)   / 2.  Yeti Rambler Insulated Tumbler  /  3. Tool Kit with case  /  4. Desk Lamp  /  5. Compact Steamer / 6. Electric Cooker Pot /  7.  Bath Towels  /  8. Peel and Stick Removable Wallpaper / 9. 2020 -2021 Calendar  – Planner  /  10. Waterproof Bluetooth Speaker   /  11. Lap Desk/  12. Portable Charger  / 13. Plastic Storage Containers   /  14.  Desk Top Shelf Organizer /   15. Apple Bluetooth AirPods   /  16. Dyson Bladeless Fan  /  17.  Wedge Pillow
Shop the Post